Coach Sidney Mines was elected to pursue his professional basketball career in Australia. He was a part of the Australian education system for 30+ years. During this time some of his achievements were playing professionally for the state basketball league (SBL) in Queensland, the continental basketball league (CBA) and the Australian basketball Association (ABA), now recognized as the (QABL).
Coach Mines played for 30+ years and at the age of 41, he became the oldest Continental Basketball League player to record a triple-double and made history in basketball circles as being the oldest player to have played in the league.
At age 43 Mines played his last game as a Spartan when they won the State Championship. Another achievement by Mines was being the 1985 "Runner Up" for the "NBL Allstar Dunk" competition.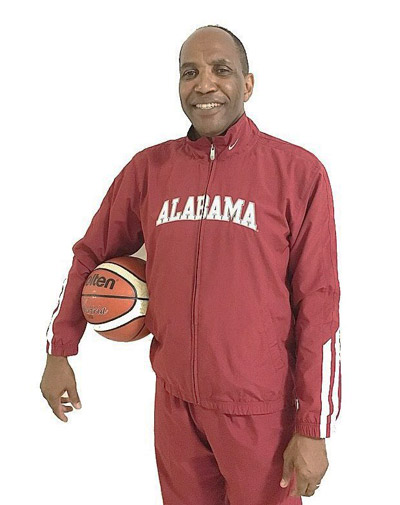 In 2005, Coach Mines was inducted into Concordia University Basketball Hall of Fame for his service as a basketball player and an athlete. Coach Mines has worked professionally, both as an educator and a basketball player in Australia for over 30+ years. Coach mines hold two major records with 76 points and 37 rebounds in a single game, breaking his own rebounding record by collecting 49 rebounds in a single game against the Australian National Team Center.
Coach Mines is the recipient of the Jack Ross Memorial award, Club Basketball Coach of the year award, recognition for the 25-year educational service award, back to back NEita teaching excellence award (2008,2009), and Runcorn state high school basketball coach of the decade award, Metropolitan West basketball outstanding service award, and in 2014, Coach Mines was inducted into the Runcorn State High School Coaches Hall of Fame.
Due to his dedication and coaching achievements, Runcorn State High School named one of the basketball courts in Coach Mines honour (Sid Mines Court).
Coach Mines has won numerous junior state championships both in high school and club ball. Many of his students are currently playing basketball in local, national leagues throughout Australia and internationally overseas. Currently, many of them are attending the University in the USA and professionally overseas.
Proper Instruction & Solid Foundation
Players who attend my basketball camps will leave with some amazing training experience. Each year I want to host a camp for all levels of athletes, including the elite and professional players.
Also, players who attend my camp can expect an intense combination of on-court skill development, movement specific performance, as well as nutrition recommendations throughout training camp. My training at the Institute will focus on improving players weaknesses, honing in on their strength and conditioning so that the athletes can perform at their peak throughout their season.
My primary goal is to fully prepare each athlete for basketball, as well as build a solid foundation for elite level players. I have collegiate and professional experience. This wealth of experience and knowledge offers players a unique and comprehensive perspective. My main focus will be on footwork recognition, advanced ball control, game simulated conditioning, shot technique correction and shot form throughout the duration of the camp.
A bit of historical short stories about Sidney Mines
Also on that team was Sidney Mines. They called him The Doctor, Spiderman, and El Sid…
Click To Read
Hall of Fame Coach
Sidney Mines
Head Coach Southern Districts U/18 Boys Spartans
U/18 Boys Classics Championship runners up
Impact International Basketball Coach
Assistant Coach Southern Districts SEABL Men Team
Head Coach Southern Districts U/18 Boys Spartans
Impact International Basketball Coach
Head Coach Southern Districts U/18 Boys Spartans
Assistant Coach Southern Districts SEABL Men Team
Impact International Basketball Coach
Head of Australian Basketball Services Elite Training Southeast Queensland
Head Coach SDBAL U/18 Boys Ups Developmental Program
Head Coach U/16 Boys Brisbane Spartans Representative Team
Head Coach SBL Brisbane Development Team (Championship Winners)
Guest International Coach at Alabama Youth Clinics USA
Individual Skills Coach for SEABL Men and WNBL Players
Coach Individual Post Footwork workshop New Mexico Highlands University USA
Basketball Coach
Runcorn State High
Head Coach Runcorn State High Year 9 Boys Metropolitan Champions
Head Coach Runcorn State High Year 10 Boys Metropolitan Champions
Head Coach Runcorn State High Open Boys Metropolitan Champions
Head Coach Runcorn State High Year 9 Boys BBI Silver
Head Coach Runcorn Open Boys Champ Schools Competition Division 1 (5th place)
Coach Individual Skills Development Workshop WWCC Juco College USA
Head Coach U/16 Boys Brisbane Spartans Representative Team
Head Coach SBL Brisbane Spartans Development Team
Head Basketball Coach Runcorn High
Head Coach Runcorn State High Year 9 Boys Metropolitan Champions
Head Coach Runcorn State High Year 10 Boys Metropolitan Champions
Head Coach Runcorn State High Open Boys Metropolitan Champions
Head Coach Runcon State High Year 9 Boys BBI Silver
Head Development Coach SDBAL U/18 Boys UPS Program
Head Coach Open Champ Schools Competition Division 11 (Winners)
Head Basketball Coach
Runcorn State High School
Head coach Runcorn State High Year 9 Boys Metropolitan Champions
Head Coach Runcorn State High Year 10 Boys Metropolitan Champions
Head Coach Runcorn State High Open Boys Metropolitan Champions
Head Coach Runcorn State High Year 9 Boys BBI Silver
Head Coach Open Boys Champ School Competition Division 11 (Winners)